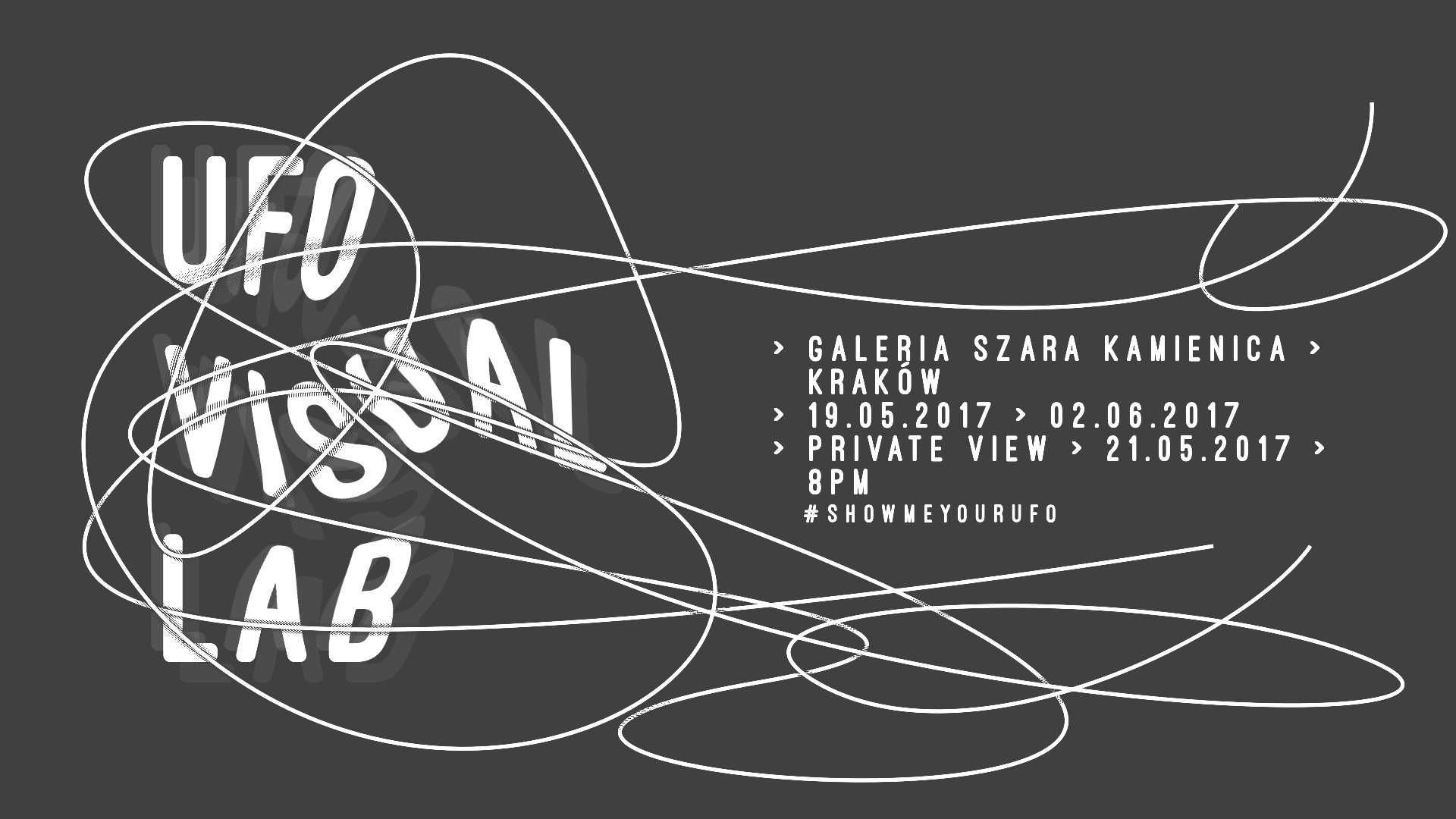 UFO VISUAL LAB
Curators and artists teamed up for the research of UFO myth and the evolution of its representation in media and pop culture.
Szara Kamienica Gallery, Rynek Główny 6, Krakow (Poland)
19.05-02.06.2017, private view: 21.05.2017, 8pm
Opening hours: Mon – Fri 1pm – 6pm, Sat – Sun 12pm – 4pm
Unidentified Flying Objects and extra-terrestrials have been appearing in the mainstream media and science discussions regularly for many years. It is extremely interesting: why do people want to believe, how come so many of us 'know' how the flying saucers or aliens look like, although no one has ever proved they exist and why the idea of UFO continuously inspires artists to produce stories, movies, artworks?
Polish art photography platform Fresh From Poland along with FotoBzik Association and Paper Beats Rock Foundation created an exhibition and publication that will be presented in Poland during the Krakow Photomonth Festival.
Grażyna Siedlecka, the curator of the exhibition, invited 11 artists, an art collective and guest curators to bring in their own unique stories. Organisers also worked on a timeline and library exploring the detailed evolution of the UFO myth.
The important parts of the show are 'Alternative Facts' zine accompanying the exhibition, the #SHOWMEYOURUFO project – an online and offline research looking into the collective consciousness, 'Disclosure' – selection by Karol Liver from Prism Magazine, and 'Wall Of Evidence' – curatorial project by Iza Zdziebko from FotoBzik association.
Featured artists: Franek Ammer, Gosia Ćwiech, Artur Gołębiowski, Grupa TBX (Paweł Bagiński, Miłosz Cirocki, Wojtek Skrzypczyński), Kamil #2, Anna Kieblesz, Karol Liver, Michał Matejko, Kaja Rata, Katarzyna Zolich, Igor Herzyk, Dawid Planeta
#SHOWMEYOURUFO: Jennifer Alarza, Zuleika AvTes, Pablo Charnas, Dominik Darocha, Boris Eldagsen, Paweł Franik, Tomasz Gotfryd, Agata Grabowska, Tobiasz Jankowiak, Adrian Jaszczak, Ania Juszczak, Adam Kalinowski, Patryk Klimkowic,z Mikołaj Konkiewicz, Klaudia Kot, Marcin Lachowicz, Wayne Maclean, Przemysław Matląg, Olivia Milani, Jakub Mlost, Mateusz von Motz, Andrzej Olechnowski, Ania Osetek, Aleksandra Pawłowska, Joanna Pawłowska, Sylwia Penc, Maria Petrenko, Adrian Pijoan, Natalia Poniatowska, Agata Rucińska, Małgorzata Sajur, Olga Samosionek, Milena Maria Soporowska
DISCLOSURE: Reuben Langdon, Dana Stirling, ECETI
WALL OF EVIDENCE: Marcin Bańdo, Martyna Basta, Tomasz Chowaniec, Sylwia Doli Doliszna, Aleksandra Iwańczak, Edyta Jabłońska, Marta Kaczmarek, Gabriela Kaszycka, Wiktoria Kot, Małgorzata Lebda, Anna Osetek, Justyna Rząca, Iza Zdziebko
---
Curator: Grażyna Siedlecka
Guest curators: Iza Zdziebko (WALL OF EVIDENCE group curatorial project), Karol Liver (DISCLOSURE project), Katarzyna Legendź & Katarzyna Zolich (ALTERNATIVE ZINE publication), Adam Nyk (live music), Łukasz Grela (movies)
Organized by: Fresh From Poland in cooperation with FotoBzik and Paper Beats Rock
Partners: Szara Kamienica Gallery, Krakow Photomonth 2017, DKF Magazyn Kultury, All in UJ, Ethnographic Museum of Krakow
Media partners: Doc! Photo Magazine, Prism Photo Magazine
ufovisuallab.tumblr.com, showmeyourufo.tumblr.com
Join our facebook event or #showmeyourufo group
PROGRAMME:
21.05, 1pm – 4pm – Szara Kamienica  Gallery: Open Day. Meet the people behind the UFO Visual Lab
21.05, 8pm – 10pm – Szara Kamienica Gallery: Private View
25.05, 7pm – 8.30pm – Ethnographic Museum of Krakow: Talk 'Space Brother, Red Ivaders, Nocturnal Hijackers. Short story of UFO on the big screen' by Łukasz Grela
27.05, 12pm – 2pm – Szara Kamienica Gallery: Family Friendly Day
29.05, 6pm – 8pm – Kolanko no 6: The Day the Earth Stood Still – 1951 movie screening
30.05, 7pm – 9pm – Kolanko no 6: Old silent sci-fi movies + modern soundtracks. Guest musicians: Igor Herzyk, UFO Sound Orchestra
31.05, 6pm – 8pm – Szara Kamienica Gallery: Curators' talk & launch of the 'Alternative Facts' zine
Free admission to the show and to all accompanying events
Krakow Photomonth 2017 is a partner of UFO Visual Lab. We recommend visiting Divisive Moments and Lookout exhibitions from festival's Main Programme.