Kinga Michalska / Sasha Kurmaz  Slightly Erotical Ballades 16/05/2017 – 04/06/2017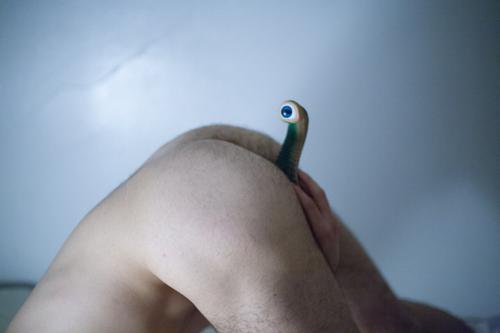 opening: Tuesday, 7 p.m.
Opcja gallery, 38 Piłsudskiego St., Cracow
In times when the body is increasingly (and rightly) seen in the perspective of political instrument, we propose an exhibition convened by irony, humor and satire, which can be regarded as fully legitimized tactics of talking about sexuality and carnality.
The title ballad as a genre that combines characteristics of poetry, drama and epic captures what in the photos of Kinga Michalska and Sasha Kurmaz is most visible – emotion, action, mood and narration, whether in the sense of the interplay of work on one another, or the possible dialogue between the photographer and the viewer.
It is no coincidence that the title also refers to the popular television series "Slightly Erotical Ballad", which was broadcast in Polish television in 2003. While the ethical dimension of the program raises objections, its groundbreaking role in the public debate on sexuality cannot be denied. "Attracting the audience more than Małysz", the series broke the binding taboo on carnality and intimate life, a subject that even today, a few years later, is still controversial.
Finally, the title ballad is an intertextual reference to Nan Goldin and her series "The Ballad of Sexual Dependency" – nearly 700 personal portraits that documented the life of the New York and Boston bohemians of the eighties. Photos so honest, natural, spontaneous and a u t h e n t i c that they started a new, designated by these epithets trend in photography.
All of these contexts accompanied us in creating an exhibition, which is a collection of photographs from sex positive attitude, affirming sex regardless of the preferences depend on social acceptability. Each of the works is an individual artist ballad about sexuality and physicality remaining outside the social and moral control. Artists combining erotic mood with naturalness show that sexuality can be lived in many ways, and sex itself is an important element of life.
More info: www.nosna.pl www.queerowymaj.org
Artists' websites: www.velvetbush.com www.sashakurmaz.com
FB event: www.bit.ly/2pb2tJy
Kinga Michalska – visual artist working mainly with photography and video, LGBTQ community activist. In her work she discusses issues of marginalized communities, identities and genders. She creates works that are socially engaged, process-oriented, inspired by the theory of intersecting feminism. Graduate from Warsaw University and photography at the Warsaw School of Photography. Exhibited her work in Poland and Canada in many solo and group shows. Currently she is mentored by Paul Landon as part of the Diversite Artistique Montreal program.
Sasha Kurmaz – Ukrainian artist. Works in various media, primarily with photography and conceptual art in public space. International exhibitions and scholarships participant. Foam Magazine Talent 2014 laureate.
---
ARTIST TALK: Kinga Michalska
Kiss of the Furry Mermaid
14/05/2017, 5 p.m.
Ogniwo, 28 Paulińska St., Cracow
In an atmosphere of radical tenderness and openness we will talk about sex, trauma, spirituality and lust as political issues. We will consider how perverse humor and eroticism can be strategies in the fight against oppression systems formed by heteronormative, patriarchal society. Artist would like to share with you how the experience of Montreal's Queer community has shaped her body, gender and identity. Travel through photos and videos will serve as a starting point for discussing the role of queer community in creating safer spaces for excluded people. Kinga's approach is consciously anti-academic, her story will come out of the personal experience of life and the experience of her community.
---
Nośna Foundation is a non-profit organization founded in September 2015 in Cracow, Poland. The purpose of Nośna is to promote young artists and new developments in art and culture, with special emphasis on socially engaged art and radical movements. Nośna is involved in cultural education, publishing activities and actions for the integration of the creative, academic and social circles. It works with grassroots initiatives and independent projects in artistic and cultural activities.