DEBUTS (edition 2017)
Open call!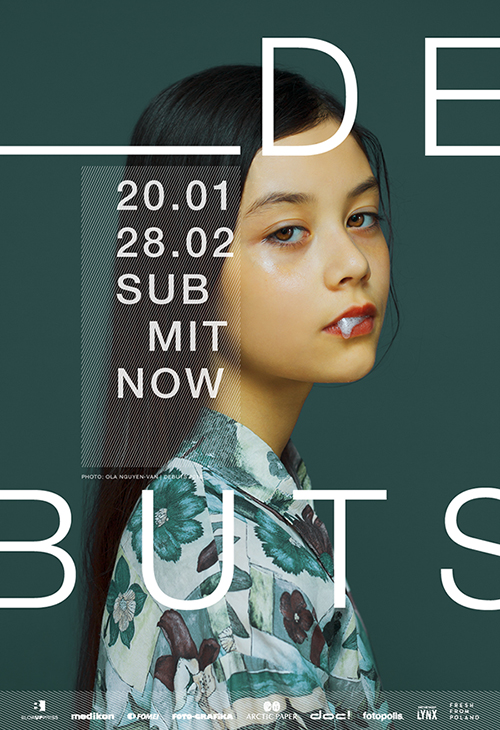 The 4th edition of DEBUTS, the Poland's first complex programme presenting the most talented emerging Polish photographers, is already waiting for your short portfolios!
If you are a Polish citizen (or if you have the Polish Card) of at least 18 years old, if photography is your passion/mission/hobby/love, and your artistic debut occurred in the last 3 years (January 1, 2014 – December 31, 2016), submit* your short portfolio to debuts@docphotomagazine.com.
Let's the world discover you! Take part in DEBUTS and start your international career with us!
The ideal portfolio should include (all is obligatory):
8 photographs (longer side: max. 1000 pix; format: jpg; no diptych, triptych and so on, please)
your full name
date of birth
name of the city you are based in
year of your debut
description of the debut (see possible debuts cases below)
description of the submitted portfolio (no more than 1000 characters, please)
name of the photo school you attend(ed) or statement of being autodidact
your phone number
your postal address
your website address
Deadline for submissions: February 28, 2017 at 11:59 PM CET
Definition of debut:
your first author's publication in media (you are the only author of entire story)
your first exhibition (individual or collective one)
graduation from the photo school or faculty
whatever occurred as the first within the above time frame. Any previous publication or exhibition will result with automatic rejection of the submission.
All accepted portfolios will be evaluated by an international jury composed of Peter Bauza, Grzegorz Kosmala, Olivier Spillebout, Marie-Pierre Subtil, Georges Vercheval.
If you are lucky, you will be invited to the DEBUTS (edition 2017) publication.** The book will be launched at the first DEBUTS (edition 2017) exhibition during the 2017 Fotofestiwal Lodz. Each invited photographer will receive 4 pages (2 spreads) within the publication including the best photographs from the submitted portfolio.
All invited photographers will have to participate in printing cost of the DEBUTS book. The fee amounts PLN 450. With this contribution you will receive:
2 copies of the DEBUTS book
a book mailing to 100 relevant stakeholders representing top of contemporary art museums, photo galleries, festivals, collectors and agencies in the world
promotion on the doc! photo magazine website
participation at the DEBUTS travelling exhibition
If you have additional questions or if you need additional information, contact us @ debuts@docphotomagazine.com.
DON'T WAIT TOO LONG AND SEND YOUR PORTFOLIO TODAY! GOOD LUCK!
* By submitting your portfolio, you declare you are the only owner of the work submitted. If the copyright belongs to a third party such as an agency, you declare you have the right to submit the work free of encumbrances or restrictions. If the photographs were commissioned for private and domestic purposes, you declare you have obtained their permission to submit them. And in case your photographs include models and/or under-age, you declare you have obtained permission from those persons or their curators to submit them for the publication and that no additional releases are required in respect of names, trademarks, designs or works of art depicted in the work.
** In case of being invited to the DEBUTS (edition 2017) publication, you authorise BLOW UP PRESS, publisher of the book, to publish your submitted photographs in DEBUTS (edition 2017) as well as to use them to promote the contest, publication and the exhibitions in traditional and online media worldwide. Such free use shall only be solely and exclusively in connection with the contest, publication and the exhibitions and no longer than until the end of March 2018.
More information here: docphotomagazine.com/debuts
DEBUTS is organized by BLOW UP PRESS, the publisher of  doc! photo magazine. The purpose of the project is to promote talented debuting photographers from Poland.
Project is supported by: Foto-grafika, Medikon Polska, Fomei Polska, Arctic Paper
Media partners of 2017 edition: Fresh From Poland, Contemporary Lynx, doc! photo magazine, fotopolis.pl