LET'S TALK ABOUT THE POLISH PHOTOGRAPHY SCENE
Conversation with Jens Pepper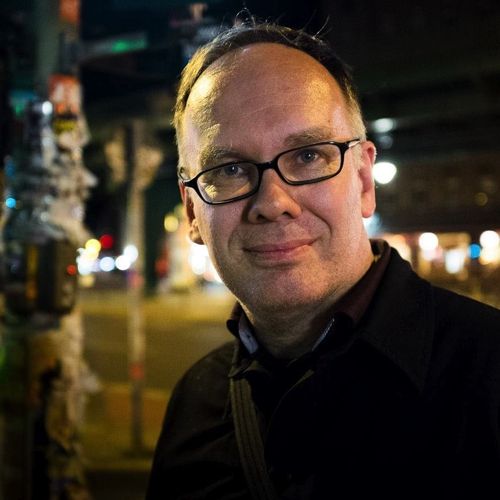 photo by Christian Reister, 2015
Bremen-born writer, curator and photographer, Jens Pepper, recently launched 'Gespräche über polnische Fotografie', a publication which explores the Polish photographic scene through interviews. 'I wanted to make a book that gives the German reader a nice introduction into as many aspects of Polish photography as possible', explains the author. 'I was looking for interesting people with interesting works (artists, photographers, photo gallerists, collectors) as I wanted to get deep into the whole scene, not only into the art/photo part but also into the business part'.
How did Pepper's deep interest in Polish photography start? It was a bit accidental. After living in Berlin, London and USA he realized it's time to explore the closest neighboring country to his homeland. 'I wanted to learn more about Poland, which is so close to Germany and to Berlin. My main reason to move was a change, I wanted to get to know another city. But of course, I was interested in art and in photography as well'. Before Pepper moved to Warsaw in June 2016, he met georgia Krawiec in Berlin. She introduced him to the Polish photographic world and gave a few tips and addresses to start with. 'Thanks to that I had a good base and quickly after my arrival I started doing interviews, which is a great way to get to know people and the scene'. Some of the conversations were published in German on Pepper's blog obstundmuse.com. 'At one point I realized that I was going to get a fine collection of interviews, which would make a nice book. As there is no comprehensive work about Polish photography in German language available, I wanted to do this book, but I planned to make it to be a text book, with no art works reproduced in it', said Pepper. 'I was lucky that in summer 2016 Jörg Becken [from KLAK Verlag publishing house] visited Warsaw and, as he is very much interested in Polish themes, he wanted to meet me. When he found out about my interviews, he suggested publishing the book. Of course, I said "yes" and here we are. In November 2017 the 318-page book was presented to the public'.
Pepper didn't know too much about the Polish photo scene before moving to Warsaw, and he's convinced he's not the only one: 'Nearly nothing is known about Polish photography outside specialized art circles. It is a little bit better if you look at Polish art in general. There are a few galleries in Germany which regularly present Polish painters (for example Żak | Branicka in Berlin). Fairly well known among art lovers are Wilhelm Sasnal, Magdalena Abakanowicz, Alicja Kwade, Sofia Kulik and a few more. But with photography the situation is worse. Many people recognize Aneta Grzeszykowska (she was exhibited during one of the last Berlin Biennales), those, who specialize in photography know about Rafał Milach (exhibited at C/O gallery in Berlin a few years ago) and Michał Szlaga (who had a show at the Polish Institute in Berlin a few years ago). One of Adam Lach's publications was available in a shop specialized in high quality photo books. But no Polish photographer is as popular as many photographers from USA, Great Britain, France, Switzerland, Japan, China, Sweden, Denmark, Netherlands etc. are.'
What was the biggest surprise for Pepper while investigating Polish photographic environment? 'I was fascinated about how small the scene actually is. If you are around for a year or so you know almost everybody in the Polish photographic environment or at least you have heard of him or her. It is totally different in Germany, and especially in Berlin. As you know, I work in the art field for about three decades and I read a lot, see a lot and talk to many people about art on a daily base. But still I can discover great photographers I have not heard of, although they are around for decades as well. In Berlin there are about 400 places where you can visit art and photo exhibitions nearly every day, and officially there are about 10.000 artists living in Berlin. And you can be sure that there are another 10.000, which are not somehow registered. The second thing that astonished me is the fact that the Polish photo scene is 'cooking in its own water'. Certainly, that is a very personal feeling, but in my eyes the Polish art scene is fairly small and too  focussed on itself. It was great to be here  for 16 months, but after that time I  was also glad to be back in Berlin. On the other hand, I know Germans who enjoy the Polish photo scene as it is, its cosiness and privacy. So, do not take my answer here as a typical German. That is only my very personal feeling about it.'
Pepper has a very clear idea why Polish photography is still pretty unknown: 'Nearly nothing from outside of Poland gets exhibited in Poland (the only exception are photography festivals, and a few exhibitions at some museums and galleries). But most exhibitions in Poland are of Polish artists / photographers. As the market is still developing and only a very few collectors are active here – and most of them buy Polish art – galleries exhibit almost only Polish photographers. That is natural, of course, because galleries need to sell works. But unless the Polish art scene really opens its doors to foreigners (including giving them grants to live and work and exhibit in Poland) no real exchange will happen. I see young curators, gallerists and publishers from Poland,  who try to change it . And I am sure things will get better in the future but there is still a way to go.'
The book was first presented in November 2017 in Berlin. Further launches are planned in Poland and Germany this year. It's published in German and so far no translations are planned.
The finalizing of the publication didn't end Pepper's connection with Poland. Although he moved back to Berlin, he hopes to stay in touch with the interviewed persons. His main focus now is looking for new topics and making own photography, but he keeps promoting Polish photography by writing about artists for magazines such as Kunstzeitung, Photonews and Brennpunkt, creating opportunities for talks and publications in Germany. 'You see, I go on promoting Polish photography', says Pepper, and we really appreciate that.
Conversation and text: Grażyna Siedlecka
February 2018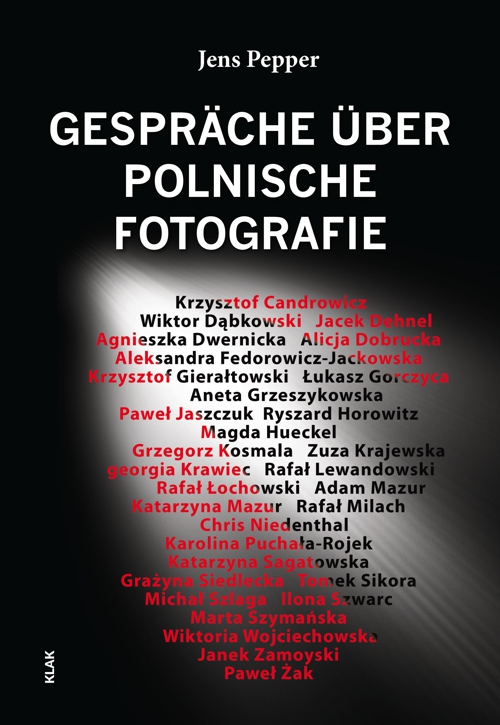 "Gespräche über polnische Fotografie"318 pages
30 interviews with 31 people
18 pages of b/w photos of the interviewed persons
Soft cover
Format 23 x 15,5 cm
Interviews with: Krzysztof Candrowicz • Wiktor Dąbkowski • Jacek Dehnel • Agnieszka Dwernicka • Alicja Dobrucka • Aleksandra Fedorowicz-Jackowska • Krzysztof Gierałtowski • Łukasz Gorczyca • Aneta Grzeszykowska • Paweł Jaszczuk • Ryszard Horowitz • Magda Hueckel • Grzegorz Kosmala • Zuza Krajewska • georgia Krawiec • Rafał Lewandowski • Rafał Łochowski • Adam Mazur • Katarzyna Mazur • Rafał Milach • Chris Niedenthal • Jens Pepper • Karolina Puchała-Rojek • Katarzyna Sagatowska • Grażyna Siedlecka • Tomek Sikora • Michał Szlaga • Ilona Szwarc • Marta Szymańska • Wiktoria Wojciechowska • Janek Zamoyski • Paweł Żak
---
Jens Pepper was born 1964 in Bremen, where he grew up. He lived in the US and in London and moved to Berlin in 1987. Most of 2016 and 2017 he lived in Warsaw but returned to Berlin  in November 2017. He writes  about photography (Photonews, Kunstzeitung, brennpunkt etc. In 2018 his first contribution to DOC! photo magazine will appear), does interviews (also live at Barbiche in Berlin once a month), occasionally curates exhibitions (2016: Roger Ballen and Wolfgang Petrick at Carpentier Galerie in Berlin; 2018: Miron Zownir, J. Jackie Baier and Christian Reister at Barbiche) and also takes photographs himself. Recently he has started a book with conversations about the London photo scene, which will be published at the end of 2018.