I came across Laura in a friend's art gallery The Death of a Man in Warsaw. At that time I didn't know she is also interested in esotericism. For couple of years I've been exploring documentation of spiritistic séances, and that is why it was actually a matter of time until I would reach out to her. Seeing 'Escapade' as part of ShowOFF 2018 during Krakow Photomonth was a really nice surprise since esoteric practices are not usually preferred theme for documentary projects. It is a good counterweight for more typical, when it comes to form as well, photographic series. 
1. I think your project perfectly fits the main theme of Kraków Photomonth 2018, which is 'Space of Flows', as you depict space as circulation of energy. For me 'Space of Flows' is a very tricky expression – because of internet and easy-jet flights we seem very mobile and open, on the other hand problems of immigrants, xenophobia, technology addiction etc. arise. At the same time we also have this general notion of energy as spiritual force. What is for you personally 'Space of Flows' and how would you describe it? 
The term 'flow' indeed seems really relevant, while naming energetical phenomena, as flow is associated with a dynamic process. I'm curious how flows of some metaphysical, unknown energy, that we perceive with the use of so called intuition, can become visible. While working on the project I wondered a lot about possibility of flow managing, the ways to control invisible. Hence, in 'Escapade' the characters are about to make the opposite kind of energy than the one – in fact not really favourable – that happen to be around them. In the context of the project 'space of flows' could be considered as kind of a battle of contradicting elements aiming to dominate each other. Though, from the outside, it could be perceived as a process of harmonisation.
2. You call people who you portrait members of 'Spiritual Underground' assigning them role of an outsider. Do these people view themselves as somehow isolated from society, representatives of a modern counterculture? Today yoga, tai chi, feng-shui or shamanistic rituals, like for example Ayahuasca, seem quite popular and available for mass consumer. You don't usually need to have any special background and knowledge to get access to these kind of practices. From your point of view, what is the status of esotericism nowadays? 
I don't know if characters of the project consider themselves as outsiders. It's rather my personal point of view as their practice is countercultural to catholic ideology that dominates Polish spiritual life. I was born in Częstochowa, the city highly influenced by Catholicism, and I consider practicing esotericism as a kind of symbolic rebellion. While working on the project I've met people who have various spiritual lives which they manifest outside, but are not institutionalised and can, but don't really have to, obey any rules. These micro-spiritual universes that one creates might be composed of different elements from different spiritual ideas, even those that one has invented himself/herself. 
Even though we can read horoscopes in magazines, do yoga in gym and find Ayahuasca shamans on every corner, it's only a brief outlook into these practices, commercialised and created for entertainment purposes. Even though it might be not very genuine purpose afterall considering popular culture, while preparing my project I was rather focused on people that have bigger knowledge in the subject. At the same time it doesn't mean that I would mind if it would be more brief, limited. I'd rather see people having some healthy distance towards spiritual subject than treating everything as a holy matter, to which nobody can refer to, as religion usually appears to be. Nowadays esoteric practices get more and more popular, and that is one of the reasons why I have focused on that subject.
Nonetheless, when it comes to characters of the project, I consider them to have professional and genuine knowledge about esoteric practices they pursue. They know what they're doing. They are gurus or at least play the guru's role very well. Its often not only hobby, but also a way of life. Another thing is that some of them also make a living out of it, so whatever the Spiritual Underground's opinion about commercialising esotericism might be, it would be definitely very dubious.
3. For me project's title, which is 'Escapade', seems very ambiguous. You have a series of disenchantments of several uncomfortable spaces: business center of Warsaw, hunter's house, 'corner of weapon' in a living room. All of them symbolize for me different social problems such as capitalism with its exploitation and inequality, animal cruelty and violence in general. To what extent these, as  I would call them, 'exorcist practices' are concrete actions, and to what extent they are signs of spiritual escapism, inner coping mechanism with that difficult reality – reality that these characters try to change with the help of magical rituals whose tangible effects are hard or even impossible to verify?
The actions pursued within the space of gifs have symbolic character. These actions depict internal escape that one could want to have while dealing with certain social and political reality. I've decided to show this process of escaping in specific space from which characters want to get away. These 'exorcist practices', as you accurately name them, are bounded together with difficult territories, though there is no visible proof of their insufficiency in reshaping the surrounding environment. Neither there is a sign confirming that the ritual works out. On the contrary, characters pursue acting with a huge portion of belief and obstinacy. I'd rather see this looped ritual as a symbol of conscious, determined, individual struggle to harmonise one's own reality. There's no way for this act to make the general, visible change, it would rather cause the internal rearrangement that influences one's approach towards particular reality.
4. Instead of static photos you've decided to make a series of gifs which makes your work more cinematographic. For sure there is something mesmerizing in their timeless repetition. But this movement is also for me a sign of insufficiency of traditional photography, as if in this case it was too limited. There is a lot written and said about how photography has changed and expanded our perception, but for me more interesting is how it restrained it. What are the main disadvantages of photography for you?

Spiritual practices have old traditions, deeply meaningful in certain ways. There was a need for something that could balance their dignity. It had to be made with the use of fresh, contemporary form, and in that case gif format helped out. Gif, as it is an ephemeral, internet-associated format, seems to be a well balanced and distanced way to show this particular subject. The project also kind of deconstructs a gif itself, as we usually see it on the phone or in computer size – within the installation gifs have various sizes, some of them are even bigger than average human being. 
The project, apart from gifs, includes some additional features depending on location, such as sound – as there was an esoteric-themed music playing during the first opening, the scent of fired up sage, the cosy space arrangement in Kraków. I wanted additionally to trigger different senses through which we can pursue our escapades. 
When it comes to disadvantages of photography, I think that this particular medium often doesn't stimulate senses other that sight, and that's the point when it loses for me. It doesn't absorb other forms of expression so easily as other visual arts do. The other thing hard for me to take is when documentary photography mimics journalism 1:1. Documentary often simplifies the subject and is being too obvious.

5. Your series is very decorative. Clothes, rooms depicted create  a very consistent whole. By circle-like arrangement and carpets with places to sit in the centre spectator immerses into this magical-like territory. Which dangers, if any, do you see in aesthetization of esotericism and counterculture practices in general? In making them a part of an artistic discourse? In other words: what is the difference between "garbage" outfit made by Mateusz and Balenciaga new Spring/Summer 2018 so-called 'plastic-bin shirt'?
If it comes to Mateusz's costume, the elements from which it is made of are garbage collected from green areas of the city. Among these things were plastic bags with logo of supermarkets and cigarette butts. Afterwards, he performed a ritual wearing it, in the same woods, with the use of different instruments. He becomes the urban shaman due to that costume. The context makes the difference, and what's more I'm pretty sure that Balenciaga used virgin plastic. 
I do think that esotericism genuinely has big visual potential and that's why it is being commercialized so smoothly. On the other hand, I wonder if there's esotericism without aestheticization as it itself aestheticize different issues. There's a very appealing card symbolizing death in tarot. On the other hand, tarot cards might be already an aestheticization of esotericism, not esotericism itself. I think there are plenty of ways to make esotericism visible and there's where the fun begins. For the visual artists at least. 
See the documentation of the show: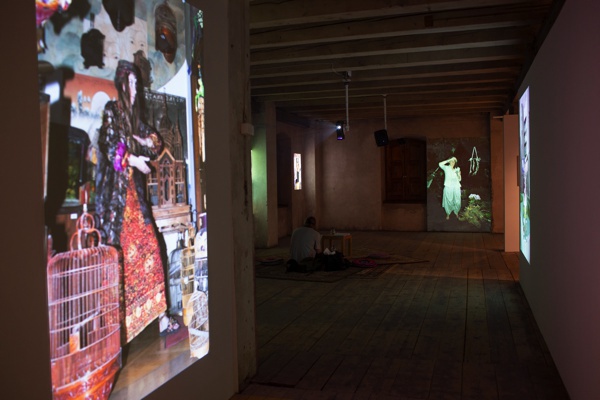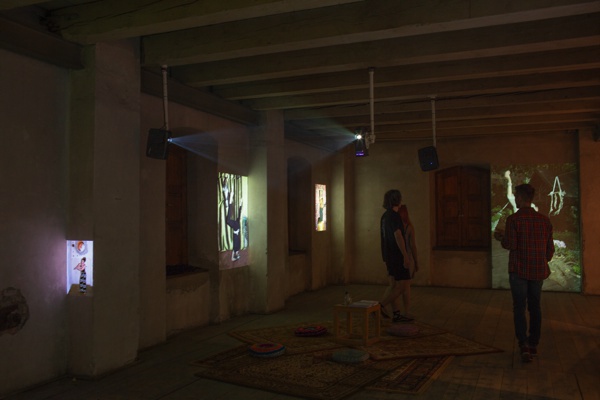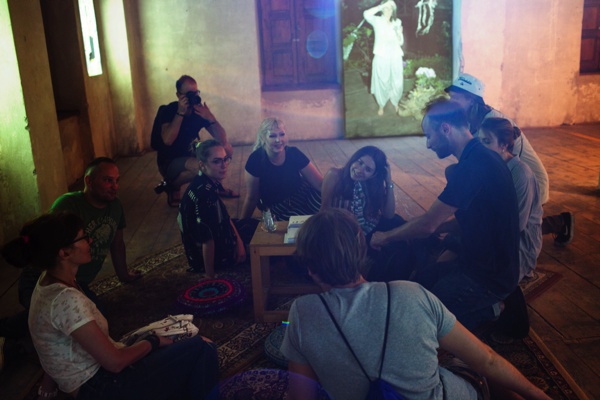 ---
Laura Ociepa (1995, Częstochowa)  is a young visual artist working in different medias such as photography, video, performance. She is currently enrolled at the Faculty of Media Art at the Academy of Fine Arts in Warsaw. Meantime she also studied at the University of the Arts in Berlin and will soon study at University of Bergen. Her 'Escapade' installation made out of gifs was presented in a community garden cottage, on Młode Wilki Festival, Show Off- Kraków Photomonth Festival and was shortlisted for Hestia Artistic Journey Award. 'Escapade' had also its solo show in Galleri Snerk in Tromsø- one of the very few galleries above the Arctic Circle. Laura is an initiator and curator of 'Hansacall' exhibition, slated to take place in the virtual version of Berlin's Hansaplatz.
Milena Natalia Soporowska (Warsaw, Poland) – studied History of Art [main faculty] at College of Inter-area Individual Humanistic and Social Studies at University of Warsaw and Photography at The Society of Polish Art Photographers [graduated with distinction] and Academy of Photography. Currently studying Museology. Laureate of the 5th edition of ShowOFF contest for young talents at XI Krakow Photomonth [project: 'Guest Rooms', curator: Bownik]. Curator and co-organizer of several group exhibitions.  Interested in spiritism and psychoanalysis. Writer and techno promoter.
Close Encounters is a series of interviews by Milena Soporowska with Polish photographers, conducted for Fresh From Poland  – each consisting of 5 questions about  just one specific project. 'Close Encounters', since Milena Soporowska is a sci-fi fan, derives from a movie title 'Close Encounters of the Third Kind' about aliens coming to Earth. Well, is every meeting with a human being not a meeting with a potential alien creature in a way? The purpose of these 'close encounters' is to know more about humans while studying their products – which are, in this case, photographs.