BORYS MAKARY
THEY WERE
The cycle "They Were" boils down to the Man Ray-like form of negatives onto which signs and numbers symbolising the character of the depicted figure have been painted by hand. The point of departure of this abstract, surrealist cycle was numerology and the symbolism of geometry used to define the portrayed person, as well as to bring them closer to the viewer. The negative contributes to the unrealness of the memories of them. Painting on the works is a performative action where the author, so to say, marks the portrayed women, making each work unique in the process.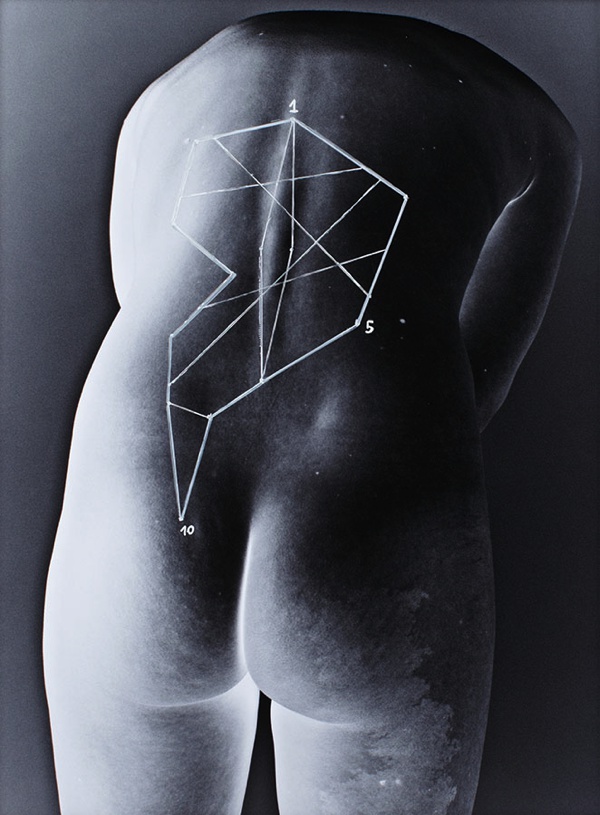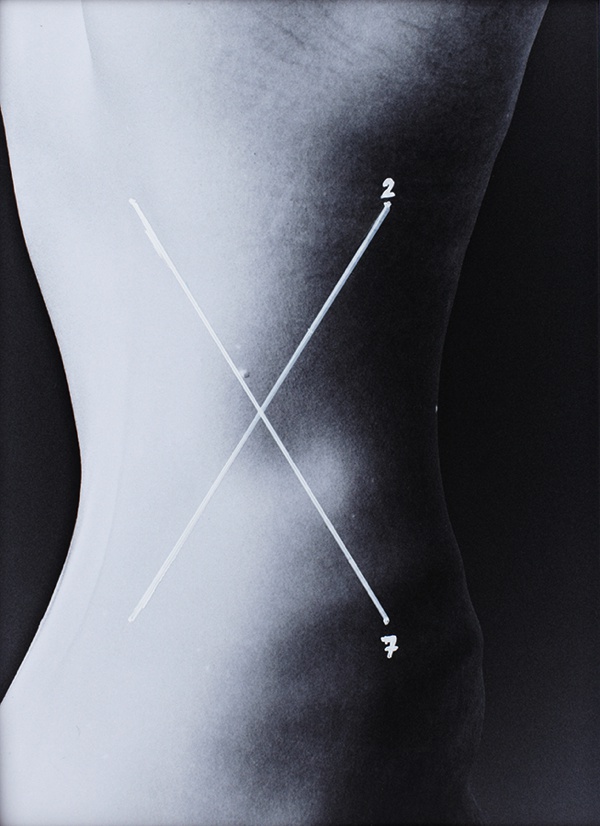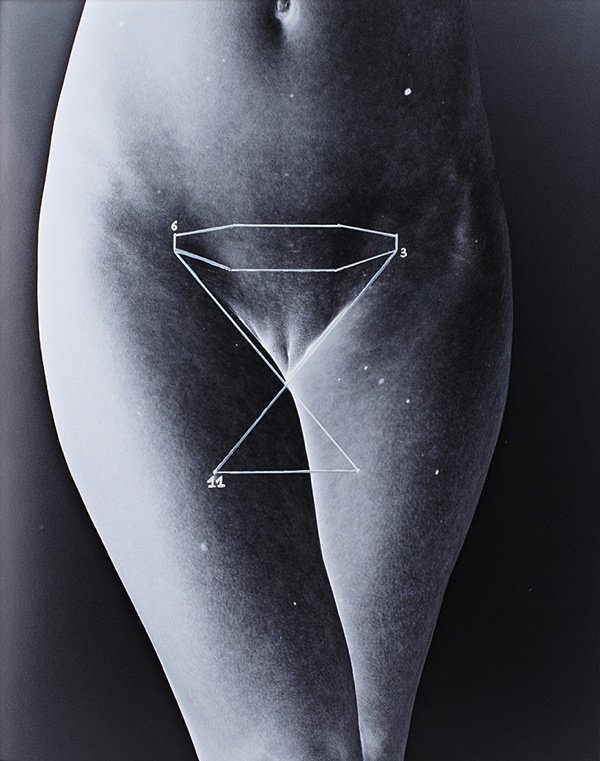 'When defining a given woman's character, the artist applies numerology and private symbolism arbitrarily. Works in various sizes are always in negative to make memories less realistic. The work 2, 3, triangleadapts contrariwise the ideal of the triangle symbolism and a sign from the Christian iconography to a female belly button. This action has a surrealist meaning. Another very interesting photograph is 3, 6, 11, gobletwhere the drawing on the body seems to be spatial.  9, 45 attracts attention by its mirror reflection and turning upside down which results in its becoming not only metaphoric and slightly ironic – as the female buttocks resemble shaven heads – but also formally interesting. In the middle of the composition there is a sign which may be associated with a coffin. The photograph 44, 22 is the culmination of the cycle as the body(-ies) has acquired an abstract form, irrelevant to physicality or femininity. In its middle an elongated rectangle has been placed as a sign of perfect balance. 0, 5, 66, reverse Y is a surprising work – in a positive sense – where a private body part has been enigmatically compared to the sign Y. Both 7, 46 and 26 are very interesting where two crossing lines stretch between the hands and join in the number 26, a metaphor of the woman and her body – and all this originally framed.'
Krzysztof Jurecki – art critic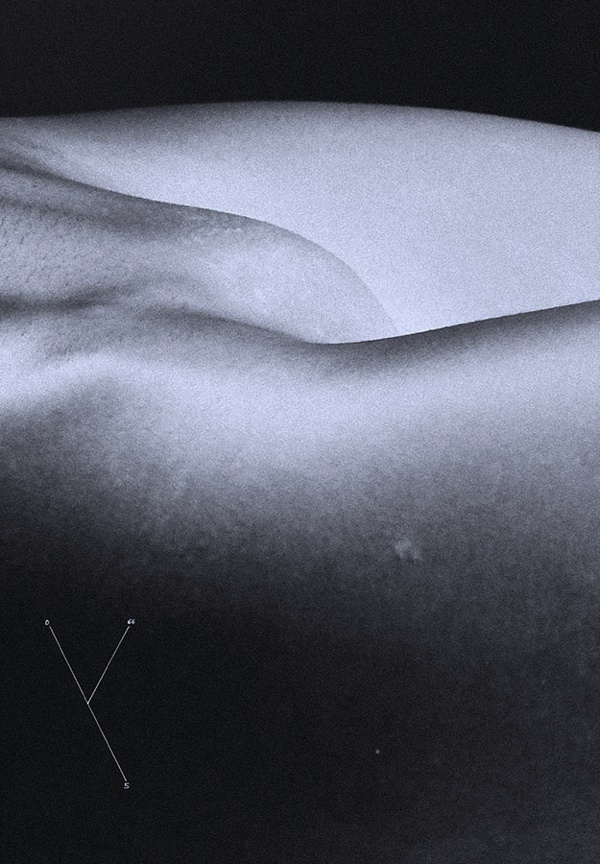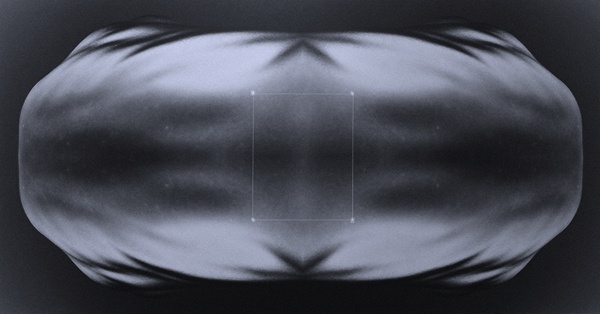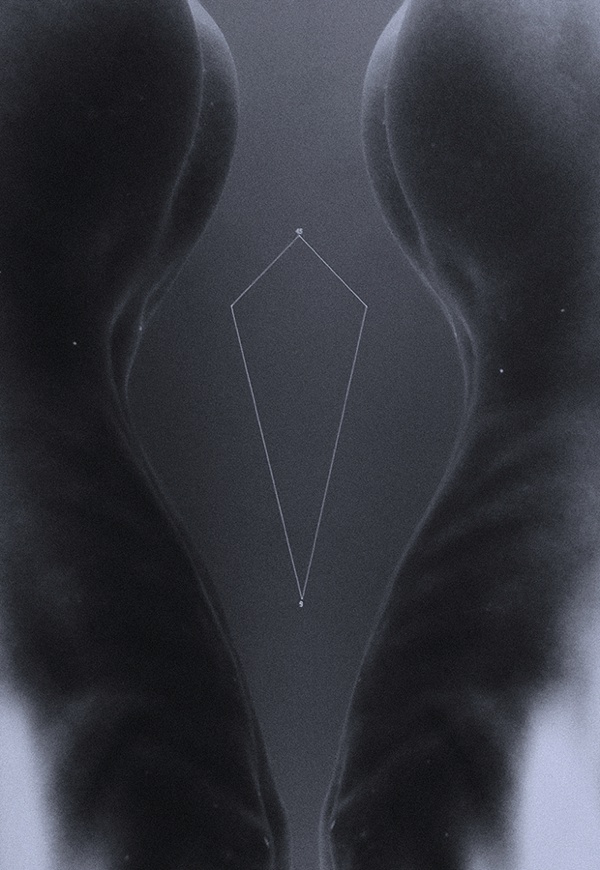 ---
Borys Makary (b. 1977). Visual artist. Deals with conceptual, creative and commenting reality art. In his work, mainly uses photography, but also creates installations. More and more often uses the video. Master of Visual Arts by education. Graduate of the Academy of Fine Arts' Faculty of Multimedia Communications in Poznań (currently University of Arts). Learnt photography from Miles Aldridge and at the Iternational Centre of Photography in New York City (NY, USA). Former assistant to Richard Warren, a fashion photographer. Has presented his works in Poland and abroad at individual exhibition in based in Paris Claude-Samuel gallery, and at group exhibition in NUE Gallery, and at collective exhibition FOTOFEVER at the Musee du Louvre, among others. Has also presented his works on individual exhibition in La Maison de la Photographie in Lille and in Lille Grand Palais. Has participated in the WeArt (Barcelona, Spain) and Photo Independent (Los Angeles, CA, USA) festivals. Since 2012, has received many awards of international photography contests in the USA and in Europe, including three medals at the Prix de la Photographie Paris for advertising campaigns as well as his own projects. Has published in many photographic magazines, including Secret Behaviour or contra doc! Lives and works in Cracow (Poland).