SO WHAT & RANDOM SELECTION
exhibition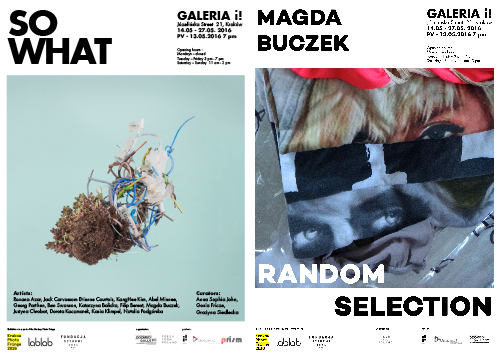 Our SO WHAT and RANDOM SELECTION shows came to their end. Take a look at the photographs from the opening night!
SO WHAT by Fresh From Poland and Doomed Gallery
SO WHAT is concept conceived by the cutting edge London based contemporary photography Doomed Gallery, in collaboration with Fresh From Poland showing at i! Gallery in Krakow. SO WHAT premiered in London November 2015 at Doomed Gallery, where it was a raging success.
SO WHAT celebrates emerging and established international still life photographers, presenting a range from traditional approaches to otherworldly surrealist structures.
Ken Flaherty and Matt Martin, the creators of the SO WHAT concept note that the exhibition "focuses on the depiction of wittingly constructed inanimate that seem to offer more questions that answers". These works allow us to view familiar and mundane items to form new perspectives through different creative mediums such as painting, sculpture and photography.
Unframed images have been arranged in the grid-like composition creating visual association with the aesthetics of the post-internet era. Curators' intention is to shift the focus from the particular, single creation to the abstract conception of the contemporary still life and its surroundings. The notion relates closely to the Magda Buczek's performance Random selection, "a loose story about a travel with its visual itinerary collected on Tumblr", presented at the gallery in parallel over the duration of the exhibition.
Artists:
Roxana Azar
Jack Carvosso
Etienne Courtois
KangHee Kim
Abel Minnee
Georg Parthen
Ben Swanson
Katarzyna Balicka
Filip Berendt
Magda Buczek
Justyna Chrobot
Dorotka Kaczmarek
Kasia Klimpel
Natalia Podgórska
Curators:
Anna Sophia John
Grażyna Siedlecka
Gosia Fricze
---
MAGDA BUCZEK – RANDOM SELECTION
It is a loose story about a travel with its visual itinerary collected on Tumblr. The experience comes filtered though different devices, a limbo of being online/offline where physical and metaphorical mobility leads to eventual emancipation and embrace of the sensual. It strongly refers to Internet aesthetics with its structure based on tumblr and other social media entities and would bring online user experience such as scroll, loading, responsiveness onto a gallery space and a form of the photobook. Transposing a digital experience onto a printed matter involves such strategies as letting a specific algorithm decide about the layout of the book, showing the images with and without "Retina effect", slow download, interlace, Instagram filters.
---
Exhibitons have been organized as a part of Krakow Photo Fringe.
galeria i!
ul. Józefińska 21, Kraków
Partners:
Krakow Photo Fringe is organized by Fundacja Lablab and Fundacja Sztuk Wizualnych.
LET'S FRINGE!