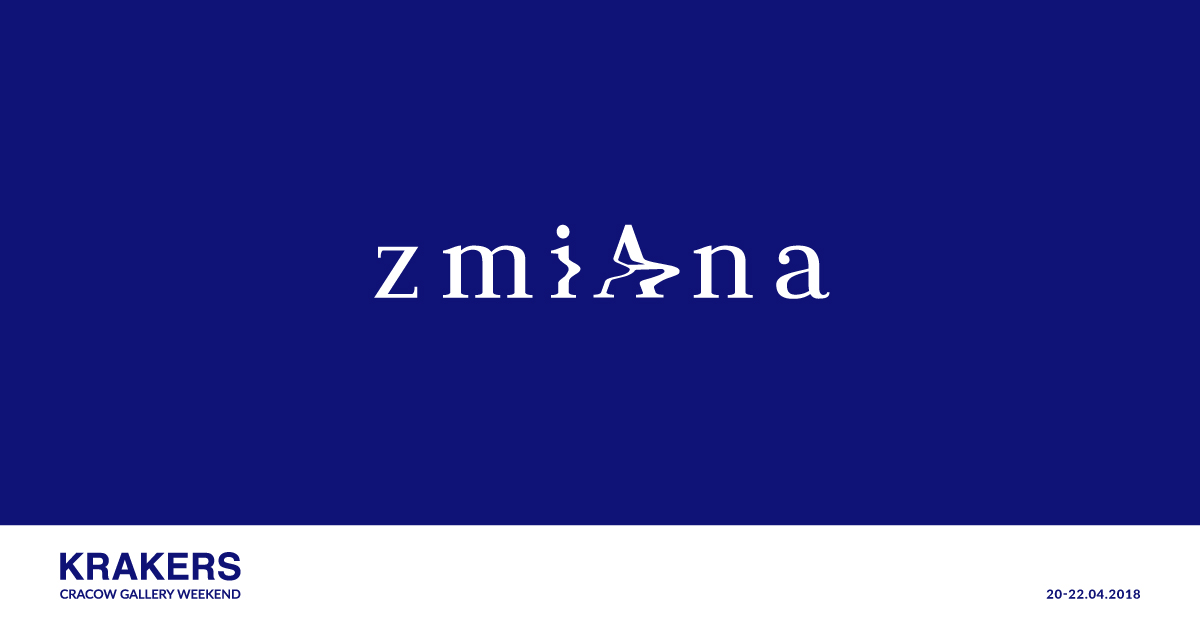 Cracow Gallery Weekend
KRAKERS 2018: CHANGE
The Cracow Gallery Weekend KRAKERS is a project promoting contemporary art in Cracow that has been taking place annually for the past seven years. CGW KRAKERS 2018, like its past editions, aims to create a communicative platform and become a meeting spot for independent art venues and the citizens. Aside from private galleries, the CGW has invited public institutions, foundations, associations, project rooms and informal groups and initiatives to take part in the event. In the course of the project, the cooperating entities will organize exhibitions prepared exclusively for the event.
The theme of this year's edition of CGW KRAKERS is Change. Change is one of the basic modalities of modern times. This applies in principle to all areas of everyday life, ranging from surface recognition of phenomena to deep structures that might change the way human beings function in the world. As an imperative change often becomes a marketing strategy or a tool in positive psychology. In humanities, often a ground for ostracizing traditional normativity, change is, in turn, present as an opportunity and manifestation of freedom. The development of digitization and technology made it possible to integrate virtual reality into everyday human life, which seems to have blurred the concept of reality itself. A transformation can also be noticed in the area of art, which has noticeably been exploring the new opportunities it has been presented with along with the raising importance of new media, as well as actively referring to the issues that a person faces with the adoption of a constantly accelerating rhythm of change.
Here we present a list of the most interesting openings involving medium of photography: 
The Course of Lines
Michał Zawada 
Private view: Friday 20.04.2018, 18.30
April 20 – May 13, 2018
ZPAF Gallery
Św. Tomasza 24
Curator: Paweł Brożyński
Why did a certain type of forest once become legally protected? Why was a specific physiognomic type considered better or worse and associated with the race of masters or slaves? What determines the course of past or current biopolitics aimed at salvation or extermination? Michał Zawada's exhibition is a clash of photos from two seemingly different orders […] During intense political and social changes, Zawada encourages us to rethink our way of looking, reveals the cultural sense of order, provokes us to follow the course of the line. 
Closer 
Katarzyna Bielec
Private view: Saturday 21.04.2018, 16.30
BIELEC Dom Fotografii i Malarstwa
Galeria Sztuki i Studio Fotograficzne
pl. Inwalidów 6
In her photographic exhibition Katarzyna Bielec by means of portraits of people from countries such as Morocco, India and Nepal speaks about tolerance – accepting otherness, respect for different cultures […] The artist captures the personality of the portrayed person. By pressing the shutter – release button, she enters into an interaction with another human being. Eye contact is important to her. […] The author emphasizes that the key to dealing with another person is not so much the conversation, as understanding. She encourages reflection and discussion on notions of tolerance, compassion and coexistence […].
Mathematics and photography
Leszek Górski  
Private view: Saturday 21.04.2018, 17.30
Galeria Trzecie Oko
ul. Bocheńska 5/2
Curator: Piotr Koralewski
The idea of the exhibition arose from the idea that photography derives directly from mathematics. As the mathematical framework supports everything around us, it is the constant of everything that can be photographed. Of course, this framework, as a pure idea, is dressed in physicality, in something that has proportions, perspective, structure, texture, and specific aesthetics. Beauty derives from the beauty of mathematics. Photographers often use mathematics to display beauty, whether in a conscious or intuitive way. They can also find math in the already immortalized beauty; whether its logic, its precision or its principles.
Check out the full programme: cracowgalleryweekend.pl/en/program-2018
For more information, go to: cracowgalleryweekend.pl/en