Cracow Gallery Weekend KRAKERS 2017 DIRECTIONS OF TENSION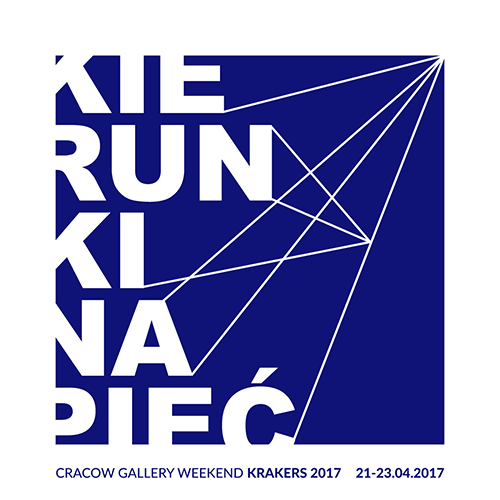 21st-23rd April 2017
The Cracow Gallery Weekend KRAKERS is a project promoting contemporary art in Cracow that has been taking place annually for the past six years. CGW KRAKERS 2017, like its past editions, aims to create a communicative platform and become a meeting spot for independent art venues and the citizens. Aside from private galleries, the CGW has invited public institutions, foundations, associations, project rooms and informal groups and initiatives to take part in the event. In the course of the project, the cooperating entities will organize exhibitions prepared exclusively for the event.
The broad audience is going to be exposed not only to a few dozens of exhibitions in galleries already renowned and holding important spots on the cultural map of Cracow, but they will also have the chance to get to know new interesting venues. KRAKERS is a vanguard that allows the public to discover the specific artistic nature of the city. The participants of the event, by following its previously prepared map, will have the opportunity to see new, little-known initiatives, artists and works. Additionally, KRAKERS offers a varied program, including workshops, tours, meet-ups with the artists and a panel discussion.
DIRECTIONS OF TENSION
As an homage to the 100th anniversary of Avant-Garde in Poland, we have decided to make the concept of Avant-Garde the main theme of this year's edition. Our goal, besides the popularization of the 20th century's art formations, is to create new space for research, which could become an inspiration for theoretical and practical experiments. Our intention could be reflected by the image of impulses travelling in different directions, deriving from Strzemiński's concept of directional tension. It allows us to fully showcase Avant-Garde and its creators, both those already renowned and new ones – maybe truly "Avant-Garde". The CGW KRAKERS's Program will encompass events crucial to the ethos of the art given birth to in the 20th century, its continued tradition, and those entering into polemics with its discourse, or even contesting its value.
Contest for the galleries
This year's edition of CGW KRAKERS will host a contest for the most interesting exhibition for the participating galleries. Members of an especially selected jury will review all of the exhibitions and events taking place within the framework of the Cracow Gallery Weekend KRAKERS 2017. A query will also be made available to the citizens of Cracow, so the gallery visitors can also have an impact on the decision who the recipient of the reward will be.
Programme – http://cracowgalleryweekend.pl/program/
For more information, go to: http://www.cracowgalleryweekend.pl/